First things first: I wasn't born in West Virginia.Upon learning this fact, more than one person who was born in West Virginia has recommended that I add "but I got here as soon as I could."That would be a white lie.

Truth is, the Mountain State was barely on my radar before about ten years ago, when my parents decided to retire to a place I'd never previously heard of: Elkins, West Virginia.

Before that, the number of times I'd visited or even passed through this state was one of those on-one-hand deals. There was a ski trip to Canaan one early spring when I was still in high school, one or two visits to Blackwater Falls, and, in 2003, a weekend blowout with work colleagues at a cabin near Thomas. That was about it.

I can safely say that it had certainly never even crossed my mind that I might want to live in West Virginia. That was back during a phase of my life when, having just bought a house in Baltimore, I could maybe have seen myself eventually moving to another large coastal city (or maybe, if I was feeling adventurous, Chicago) but certainly not to some out-of-the-way little burg like Elkins.

Not that I'd heard of Elkins before—as I mentioned—my parents announced they might retire here. My introduction to it came when, before my parents finalized their decision, they treated my future wife, Amy, and me to a weekend at Graceland so we could explore the town and give them our opinion. I remember walking through downtown (and back then, I would have put "downtown" in quotes) at dusk and saying to Amy, "this is probably a good place for my parents but there's no way in hell I'd want to live here." She agreed with both parts of that statement. I knew my parents were looking for a slower pace of life and would also relish the arts center and the college and the mountains and the rivers, but Amy and I simply couldn't picture ourselves somewhere so… not big.

Then, life happened, as it tends to do: Amy got a rare job opportunity that took us to Missoula, Montana, another place I'd never heard of.

Now, compared to Elkins, Missoula is huge, with about ten times the population as our little burg.

But to someone moving from Baltimore, it felt like Mayberry.

Imagine my surprise when that turned out not to be… not so bad.

I found I really liked living in a more compact community, both for the convenience of it but also for how easily and quickly we felt at home there. I liked recognizing the mayor on the street and knowing where my city council member lived, and I loved being surrounded by public lands. There is something special about being able to look up from just about any spot in your city and see beautiful mountains, even when you are in the parking lot of Sam's Club on what–back in Baltimore—would have been a grim, joyless, time-wasting errand.

So we were settling into Missoula when life happened again: our first child came along, and Amy had to leave the dream job that had brought us to Missoula (not because of antiquated notions of gender/parenting roles, but because that job involved her living in a tent in the woods in Arizona four months out of the year, doing songbird research).

Also, as anyone knows who has started a family far from the rest of the family, a strong urge comes over you to get closer to the tribe. And for the most part Amy's and my respective tribes were still centered in the Mid-Atlantic, an expensive flight or three days of driving away.

One week I joked to my mother that maybe we should move to Elkins.

She managed to resist jumping up and down and screaming "OH MY GOD YES BRING MY GRANDSON TO LIVE IN MY CITY!!!"

Instead, she craftily sent along some real-estate listings, just in case it might interest us to learn that the Elkins market generally offered twice the house for half the money, compared to the Missoula market.

And within another week or so, the joke about moving to Elkins had turned serious. My experience in Missoula had helped me get over my prejudice against smaller communities, so I figured I'd be able to manage.

Still, I never expected to really love this place. It would have been enough—would have satisfied all of my hopes and expectations for the move—to simply be in the same town as my parents, land my (then only) child in a neighborhood full of other kids, and maybe have one or two neighbors who were willing to be polite to me. (I'll admit that I did wonder if Elkins might be one of those places where I'd be regarded suspiciously as a "damn flatlander" for at least my first 30 years of residence.)

Instead, we got more than I could have hoped for: a wonderful—and wonderfully welcoming—neighborhood, fantastic neighbors, and natural beauty all around, all located in a state with a fascinating history, an inspiring connection to rich heritage and traditions, and an indomitable spirit.

In short, a great place to raise my children, a perfect place for them to be "from," and a place I found I could identify with at a deep and essential level.

And now that my life circumstances have changed (as some of you may know, I recently shifted from an office job to an all-over-the-state job; from a job narrowly concerned with one city in West Virginia to an organization with a mission to serve the entire state), I want to get know and reflect on my experiences in this state more than I was previously able to.

This column will be the record of those reflections: a personal chronicle of what's awesome about my adopted home city and state, with all of the reasons why—even though I didn't get here all that quickly—I'm so glad I got here as soon as I did.

Thanks for reading, and I look forward to sharing this experience with you.
---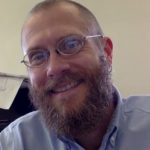 Sutton Stokes is the associate director of the West Virginia Center for Civic Life, a nonpartisan organization that helps people talk and work together on public issues that affect life in West Virginia. From 2012 until 2016, he was city clerk of Elkins. Sutton has also worked as a freelance writer, consultant, outdoor educator, bartender, and security guard. When he looks back on his work history and education, he has to admit that all of his most important lessons came during the four years he served in the U.S. Coast Guard. Sutton lives in Elkins with his wife and two children, five minutes' walk from his parents' hous